Develop Women Leaders, Transform Leadership
Develop Women Leaders, Transform Leadership
Develop Women Leaders, Transform Leadership
Your registration gains you access to the entire collection.
What you'll learn
Female leaders in health IT represent only 30% of senior leadership. It's not yet a level playing field. Apart from the domain knowledge and experience women bring to their role, as leaders we need to ground ourselves from the inside. We need to choose the roles that are a good fit so we're both fulfilled and successful.  In doing this well, we also want to model a different kind of leadership – leadership that sees and empowers the best in others and creates a satisfying team experience in service of our ultimate customers – the patients our organizations care for. 
Learning objectives:
Recognize that you are not the only one struggling with how to be effective, successful, and fulfilled – it doesn't happen easily or automatically.  It's a journey and there are guideposts to look for.
Learn how you can make foundational shifts with intention in crafting the leader you want to be and the life you want to live that can only come from you.  It starts with intentionality.
Discover clear and thoughtful steps you can take in steering your career progression while attending to your personal/family commitments.  As you realize you're ready for a role change, it's important to get clear about what you need/want both professionally and personally and be proactive.
Learn to give yourself permission to invest in your own well-being and leadership growth and commit to taking that next step. 
Gale Thompson
Advisor
StarBridge Advisors
Gale Thompson is an advisor at StarBridge Advisors, LLC. Gale is an experienced leadership coach with 25 years of...
Gale Thompson is an advisor at StarBridge Advisors, LLC. Gale is an experienced leadership coach with 25 years of leadership and business management experience in corporate and not-for-profit organizations along with expertise in leadership coaching and therapy. Gale enjoys coaching professionals seeking to bring more of themselves to their work and life while taking their leadership to the next level. She helps them identify and apply their strengths more effectively to manage their inner game. They create an environment of trust, support, and motivation bringing out the best in their teams, collectively driving better performance for the organization. Gale believes that cultivating inner leadership for guidance, clarity, and insight supports external leadership from a place of grounded wisdom. Gale has worked with leadership teams in consulting, information technology, healthcare, and research enterprises. She has led global efforts to engage with technology partners in the health, life sciences, and public service areas. In that capacity, she drove the full lifecycle of defining strategic intent and criteria for partner selection, negotiating and contracting with technology partners, governing the relationship, and engaging at the team level. Gale held leadership roles in a translational research institute and an eCommerce start-up in pharmaceutical R&D after providing healthcare operational consulting.
View more
Sue Schade
Principal
Star Bridge Advisors
Sue is a Principal at StarBridge Advisors, LLC. A nationally recognized health IT leader, she recently served as...
Sue is a Principal at StarBridge Advisors, LLC. A nationally recognized health IT leader, she recently served as interim Chief Information Officer at Stony Brook Medicine on Long Island and at University Hospitals in Cleveland, Ohio. Prior to StarBridge Advisors, she was a founding advisor at Next Wave Health Advisors. Sue has more than 30 years' experience in healthcare information technology management and was recognized as the CHIME-HIMSS John E. Gall, Jr. CIO of the Year in 2014. Sue served as Chief Information Officer for the University of Michigan Hospitals and Health Centers from 2012-2015, providing direction and oversight to information technology initiatives and working closely with the CIO for the U-M Medical School. Under her leadership, UMHS made the HealthCare's Most Wired list in 2015 and achieved the HIMSS Analytics EMR Adoption Model Stage 6 in 2014. For over 12 years, Sue served as Chief Information Officer of Brigham and Women's Hospital in Boston. Her previous experience included 12 years in positions of increasing responsibility at a large integrated delivery system in the Chicago area. She led the software division for a start-up healthcare software and outsourcing services vendor for several years and worked as a senior manager in the healthcare information technology practice at Ernst and Young. An active member of HIMSS and CHIME, Sue served on the CHIME Board from 2004 to 2006 and chaired its Education Foundation Board from 2006 to 2009. She served on the HIMSS Advocacy and Public Policy Steering Committee from 2009-2011 as well as the CHIME Policy Steering Committee. Sue achieved fellow status with both HIMSS and CHIME. She is currently serving on the board and executive committee of AAMI and the CHIME Education Foundation Board.
View more
Details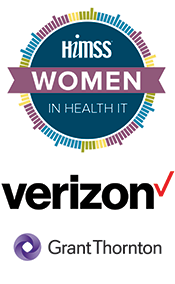 Event Type : On Demand
Date : Jun 18, 2019 01:00 PM CT
Collection Cost : Complimentary
Credits : CPHIMS, CAHIMS
Speaker(s) : Gale Thompson, Sue Schade
Register
Related content
CPHIMS, CAHIMS

Career, COVID-19

Collection

Read More

Effective leadership has never been more important....

Learn more

Collection Cost

$0.00 Non-member

$0.00 Member

CPHIMS, CAHIMS

Career, Informatics, Leadership

Collection

Read More

CPHIMS, CAHIMS

Patient Engagement, Policy, Population Health

Collection

Read More

In recognition of National Hispanic Heritage Month, this...

Learn more

Collection Cost

$0.00 Non-member

$0.00 Member

Get inspired by the recipients of the HIMSS's Most...

Learn more

Collection Cost

$0.00 Non-member

$0.00 Member

As patients and healthcare consumers, women are...

Learn more

Collection Cost

$0.00 Non-member

$0.00 Member

Learn how to facilitate the creation of a mentor program at...

Learn more

Collection Cost

$0.00 Non-member

$0.00 Member