Women in Health IT at the Forefront of Addressing the Opioid Crisis
Women in Health IT at the Forefront of Addressing the Opioid Crisis
Women in Health IT at the Forefront of Addressing the Opioid Crisis
Your registration gains you access to the entire collection.
What you'll learn
In 2016 alone, more than 11.5 million people reported misuse of prescription pain medicine. HIMSS recognizes the role and value of health information and technology to address the opioid crisis. HIMSS also aims to elevate the voices of women who have been fiercely working to address the crisis across the U.S.
The objective of this webinar is to tie the opioid crisis with the Women in Health IT community to bring awareness to women's voices in addressing the crisis. A panel of leaders at the federal and state levels and the HIE space will share their stories on how they came into their current work roles and what they are doing in those roles that ties to addressing the opioid crisis through information and technology.
Learning objectives
Inform members about women's experiences applying health information and technology to address the opioid crisis at the federal and state level
Educate attendees about how speakers' career trajectories led to their current role addressing the opioid crisis through health information and technology
Elevate the voices of women who have been at the forefront of addressing the crisis
Details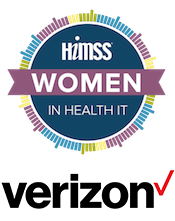 Event Type : On Demand
Date : Oct 12, 2018 01:30 PM CT
Collection Cost : Complimentary
Credits : CPHIMS, CAHIMS
Speaker(s) : Deb Soholt, Jaime Bland, Rita Habib, Terri Ripley
Register
Related content
CPHIMS, CAHIMS

Career, Informatics, Leadership

Collection

Read More

CPHIMS, CAHIMS

Patient Engagement, Policy, Population Health

Collection

Read More

In recognition of National Hispanic Heritage Month, this...

Learn more

Collection Cost

$0.00 Non-member

$0.00 Member

Get inspired by the recipients of the HIMSS's Most...

Learn more

Collection Cost

$0.00 Non-member

$0.00 Member

As patients and healthcare consumers, women are...

Learn more

Collection Cost

$0.00 Non-member

$0.00 Member

Learn how to facilitate the creation of a mentor program at...

Learn more

Collection Cost

$0.00 Non-member

$0.00 Member

Female leaders in health IT represent only 30% of senior...

Learn more

Collection Cost

$0.00 Non-member

$0.00 Member

CPHIMS, CAHIMS

Career, Innovation

Collection

Read More

Get inspired by the recipients of the HIMSS's Most...

Learn more

Collection Cost

$0.00 Non-member

$0.00 Member